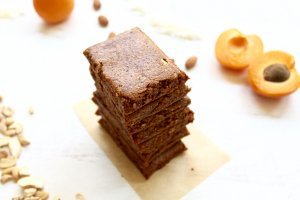 If you haven't heard, RX Bars are a minimalist whole food bar that contain dates for sweetness, nuts for texture, and egg whites for protein, and sea salt for flavor and essential electrolytes.  They're also about $2 each, pricing them out of my budget in most cases.
DIY Rx Bars
The ingredients are listed right on the package, and after a few trial runs and complete flops, I found the secrets to making these bars taste great, hold their shape, and come together easily.
There are recipes around the web for similar bars, but they don't hold up at room temperature.  The key to getting a bar that isn't a sticky mess at the end of your hike or mid work-day is to use the dehydrator to remove excess moisture and slightly caramelize the sugar from the dates.
I use this dehydrator weekly, and daily during the late summer when we're saving produce for the winter.  A dehydrator can be used to make yogurt, fruit leather, crispy nuts, dried fruit, and more.
Oven Option
I haven't tried this recipe in the oven, but I think if you baked the bars on the lowest setting of your oven on a cooling rack for about an hour, you would get a similar result.  If you try it, I'd love to know how it works in the comments!
Ingredients used
Rx Bars use egg white for protein.  I chose to use collagen (find here) instead, as I prefer to eat egg whites with their yolks.  This is also helpful for my many egg-free readers who want a treat.
I also soaked and dehydrated my nuts (read more about this here) prior to making the bars.  This improves digestibility but is an optional step.
The key to preserving the flavor of the apricots rather than having it all be mush is to dry your apricots before you make the bars.   You can purchase dried fruit from the bulk containers of most health food stores, or dry your own at the same time you make crispy nuts as we talked about above.
Whole30 Notes
"The spirit of Whole30" (read more about Whole 30 here) prohibits baked goods and candy-bar-like foods.  I think that these bars are kind of pushing the rules, but technically the ingredients used are allowed on Whole30.
Everyone needs to focus on protein, fresh produce, and home-cooked actual meals for the majority of their meals. But some days, weeks, or situations just beg for an easy-to-eat shelf-stable quick source of energy.  These bars are perfect for that.
Recipe
Homemade Coconut-Apricot Protein Bar (copycat RX Bar) Print Prep time 15 mins Cook time 12 hours Total time 12 hours 15 mins Sweetened with dates, and with a protein boost from collagen, these bars can be a meal replacement in a pinch. The rich chocolate flavor is enhanced with a sprinkle of sea salt. Author: Cara Comini Recipe type: Snack Cuisine: Paleo, GAPS, Whole30 Serves: 10 Ingredients 1.5 cups (about 12 large) dates, pits removed (find here) ½ teaspoon sea salt ½ cup crispy almonds (see how to make here) ½ cup crispy cashews (purchase cashew pieces to save money) (see how to make here) 5 scoops (10 tablespoons) Collagen Powder (NOT GELATIN) (find here) 1 cup dried apricots (find additive-free dried apricots here. Note: If there aren't additives, oxidation will cause them to turn brown but they will still be delicious!) 1 cup coconut flakes or shredded unsweetened coconut (find here) Directions Place all ingredients except for the coconut and apricots in a food processor and process until a ball forms, about 2-3 minutes. Pulse in apricots and coconut to chop and mix. Keep a hand on your food processor as the dense dough can cause it to 'walk' on the countertop. Carefully remove blade, and then scoop dough onto parchment paper (find parchment paper here) to roll out. Gently pat into a rectangle shape. Roll to desired thickness (I like a little less than ½-inch) between two sheets of parchment paper. Remove top sheet of parchment paper and flip onto a dehydrator tray. Dry the whole sheet of protein bars for 6-12 hours or overnight on high, until no longer tacky. You can skip this step and go straight to cutting into bars, but it's easier to cut into even bars after drying for a little while. After no longer tacky, allow sheet of dough to cool for 30 minutes to firm it up. Then flip onto a large cutting board and cut into 10 even rectangles and return to dehydrator tray. If your knife is sticking, get your knife wet and then try again. Dehydrate for another 4 hours or overnight, depending on how hard you want your bars to be (longer drying time yields more firm protein bars). Bars will firm up again when they cool. Store in an airtight container in the fridge for up to 1 month. These will hold up fine at room temperature for camping, hiking, etc. Notes This recipe makes 10 bars, but I usually only get 8 rectangle-shaped bars, after trimming the edges of the dough to make a rectangle. My kids love these 4 strips from the outside as well, they're just not exact rectangles. 3.5.3226
Want MORE?
Chocolate and Sea Salt Protein Bars
Mixed Berry Protein Bars
The post Homemade Apricot-Coconut Paleo Protein Bars (GAPS, Whole30, like RX Bars) appeared first on Health, Home, & Happiness.
Read more about this at healthhomeandhappiness.com.