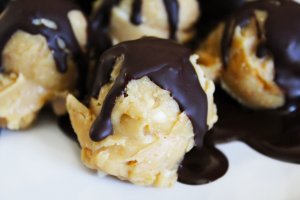 Smooth dark chocolate and salty-sweet creamy peanutbutter is a match made in heaven. We make this classic combo low carb and suitable for the ketogenic and/or GAPS diets by using a hint of stevia. This recipe is high in fat and a perfect treat after a meal. I won't fuss at you if you enjoy them as breakfast either 😉
These fat bombs, or keto candy, are based on our nutbutter cup fat bombs. We then melt dark chocolate and palm shortening with a little stevia (optional) and sea salt and drizzle the rich chocolate over the top. Because the peanutbutter mixture has been chilled, it quickly forms a hard shell perfectly.
About the sweeteners
I choose stevia as the sweetener I use on keto primarily. I'll admit it has a bit of an aftertaste, and does well with peanutbutter and lemon, but I don't love how it tastes with chocolate.  Your mileage may vary.
When I'm making these chocolate peanutbutter fat bombs for our family, I leave the sweetener out of the chocolate coating completely. Unconventional, yes, but after a few weeks on the ketogenic diet you really do lose your sweet tooth!
Alternatively, you could use an erythritol/monk fruit combination, which does taste much more like sugar. I limit the amount of erythritol I let my children have to nearly none, as it is a highly processed sugar alcohol that I haven't done enough research on yet.  Look for a blog post on that in the future 😉 For myself, I do occasionally have keto treats that contain erythritol, but I try to focus on healthy whole foods more than treats for my typical diet.
The Recipe

Rich and Delicious Buckeye Fat Bombs (Keto, GAPS, Low Carb High Fat) Print Prep time 20 mins Total time 20 mins These fat bombs are simple to make, look super impressive, and are rich and delicious! Whip up a batch today. Author: Cara Comini Recipe type: Treat Cuisine: Ketogenic, GAPS Serves: 8 Ingredients For the peanutbutter mixture ½ cup (4 oz) peanutbutter or other nutbutter (I used this kind) ½ cup (4 oz) butter, softened 2 packets stevia (this kind) or 2 tablespoons honey or other granulated sweetener ([url:1]this kind[ of honey/url]helps them keep their shape) ½ teaspoon sea salt (this kind) For the chocolate topping 2 ounces unsweetened dark chocolate (this kind) 2 teaspoons palm shortening (this kind) or coconut oil 1 packet stevia (optional) or 1 teaspoon granulated sweetener of choice 1 pinch sea salt Directions For the peanutbutter mixture Use a fork to combine the softened butter, peanutbutter or nutbutter, 2 packets stevia, and ½ teaspoon sea salt. Chill in the freezer until set, about 15 minutes As the peanutbutter mixture sets make the chocolate topping Break up 2 ounces dark chocolate into a microwave-safe bowl. Add the 2 teaspoons palm shortening. Melt in the microwave on high, stirring every 20 seconds, or in adouble boiler. Add the optional 1 packet of stevia or sweetener of choice and 1 (small) pinch of sea salt to bring out the rich chocolate flavor. Set aside, stirring every few minutes. you want the chocolate mixture to start to thicken a bit before you coat the peantubutter balls with it. Put it all together Once the peanutbutter mixture has set, use a small to medium cookie scoop, or a tablespoon, to scoop the peantubutter mixture into even balls. Place on a plate and back in the freezer for 5 minutes if your kitchen is warm. The peanutbutter balls cannot be melty, or the chocolate won't set on them. Re-warm the chocolate if needed to make it a pourable consistency. Drizzle over the peanutbutter balls until it is all used up. Return the whole plate to the freezer for 5-10 minutes, or until completely set, and then transfer to a covered container. Enjoy! Notes Nutrition data reflects use of stevia, and 8 total balls being made. Net carbs per serving is 3 (carbohydrate-fiber). Nutrition Information Serving size: 1 ball Calories: 245 Fat: 23 Carbohydrates: 5 Sugar: 0 Sodium: 245 Fiber: 2 Protein: 5 3.5.3226
 
The post Rich and Delicious Buckeye Fat Bombs (Keto, GAPS, Low Carb High Fat) appeared first on Health, Home, & Happiness.
Read more about this at healthhomeandhappiness.com.